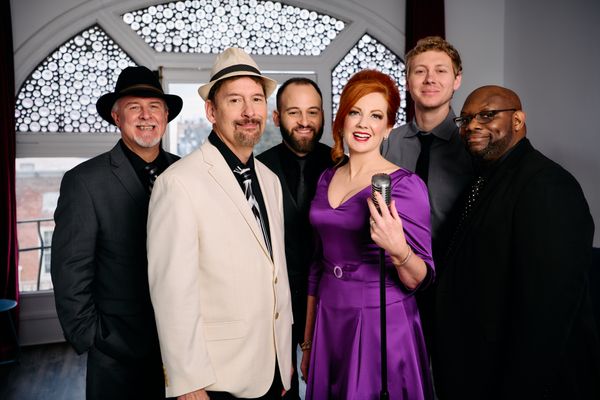 Ginger and The Schnappes is made up of 5 great musicians and 1 great vocalist:
(L to R) Brian Bortz on bass, Joe Mixon on guitar, Dan Twaddell on sax and flute, Ginger Brew on vocals, Patrick Kerssen on keyboard, Vern Mobley on drums.
---
Everyone contributes their musical ideas to the band but somebody has to be the chief-cook-and-bottle-washer and that someone is me and "I'm just Ginger Brew!"
Since it's "my band" I get to pick a lot of the music we play and I always pick songs with the cleverest and juiciest lyrics from The Great American Songbook. I love to wrap my teeth and tongue around the sassy lyrics and smart rhymes typical of these songs.  It's these terrific words, these yummy sounds and the feelings they create that made me want to sing in the first place.
Unlike Joe and the other musicians in the band, I don't hear music and think, "Wow, what a great sound! I have to learn to play this!" Instead, I hear music all wrapped around the words and think,  "Wow, what a great medium for transporting words! I have to learn to sing this!"   To my ear, music makes poetic language more enjoyable to vocalize and more impactful to hear compared to straight spoken language.  "I think that I shall never see a poem as lovely as a tree"... but add a melody and make it swing and now that poem's a song and that, to me, is a very lovely thing!
Of all the ways to marry words and music, I don't think any style of music does it better than the jazz standards found in the body of music called the Great American Songbook. These songs, written from the 1920's to about the 1960's, have something for everyone.  First, they have great music.  The tunes are catchy with great melodies and interesting chords that allow the musicians to stretch them a million different ways.  Play them up, play them down, make them latin, improvise the hell out of them, it doesn't matter.  These tunes are so well composed you can bend them anyway you want and they still sound great. 
Second thing these songs have going for them are lyrics, really great lyrics.  Lyrics that are clever and bright and fun.  Lyrics that make you laugh, blush and ponder.  Lyrics that take the great themes of the human condition and boil them down into tight little brilliant nuggets that feel like velvety fine chocolate melting in your mouth when sung.  How can you resist singing about: 
A woman who missed out on true love and replaced it with superficial fun in alliteration: 
          Diamonds shining, dancing, dining with some man in a restaurant, is that all you really want?
          From "Sophisticated Lady." Lyrics by Irving Mills, Music by Duke Ellington 
The comic inevitability of falling in love: 
          Come the measles, you can quarantine the room, come a mousy, you can chase it with a broom,
          Come love, nothing can be done. 
           From, "Comes Love."   Lyrics by Lew Brown and Charles Tobias, Music by Sam Stept
Picking yourself up, and I mean up: 
         My fur coat sold, oh Lord ain't it cold, but I ain't gonna holler 'cuz I still got a dollar
         And when I get low, woe, woe, woe, I get high.  
         From, "When I Get Low I Get  High." Words and Music by Marion Sunshine
More on the inevitability of love, this time with a naughty undertone: 
          Electric eels I might add do it, though it shocks them I know. Why ask if shad do it? 
          Waiter, bring me shad roe.  Let's do it, Let's fall in love.  
           From, "Let's Do It."  Words and Music by Cole Porter
A comical lesson on the dangers of infidelity, modestly described as 'whoopee': 
          He doesn't make much money, only five thousand per.   
          Some judge who thinks he's funny says, "You will give six to her."  
          He says, "now judge, suppose I fail?"  
          The judge says, "Bud, right into jail."  
          You'd better keep her, I think it's cheaper than making whoopee.  
           From, "Making Whopee." Lyrics by Gus Kahn, Music by Walter Donaldson 
The excitement of getting ready for a hot date along with a terrific rhyme using 'boutonniere': 
          Gotta get a half a buck somewhere, gotta shine my shoes and slick my hair,
          Gotta get myself a boutonniere, Lulu's back in town.  
           From, "Lulu's Back in Town."   Lyrics by Al Dubin, Music by  Harry Warren
These lyrics are fun, smart, well written and then encased in a delicious coating of unforgettable melodies and chords. Of course Ginger and The Schnappes plays these songs!   -GB